Hi,
I'm trying to remove a raiser from an old mountain bike with a threaded headset(I'm guessing it's about 15 years old) It looks like it might be this one on sheldon brown, but I can't be sure it's the same thing: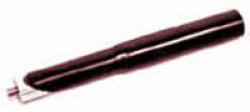 I've tried removing it by unscrewing the bolt and hitting with a hammer, as I thought it could be fixed in with a wedge. It seems to be stuck though. I wanted to check if there's any other way it might be fixed in before I try hitting it harder, in case I break something - any suggestions?
There's a strong possibility it could just be rusted together, so I was also wondering if there are any tips for freeing up parts which are rusted in. I've oiled it but was wondering if there's anything else I could do?
Thanks for your help!