It has been asked a times how to set brake pads. This is one way to go about how to do it. It works really well and near automatic line up of the pad to rim surface and even pad toe. But first, I will try to be as short winded as I can but most all video's or explanation "how to's" seem to fall short on what leads up to the service to be performed. This involves everything up to the task at hand. (Brake pads) in this case.
Processes in proper order 1,2,3,etc... Before doing brakes start off the bike and inspect/adjust your way to the brakes first. So step one would be to make sure your axle is adjusted correctly, step 2 make sure your rim is true and dished/centered properly, step3 polish/clean lube the brake bosses. Now you can proceed to the task at hand. If you perform processes in proper order you will never have to complete a task only to then find out something just did not come out right and then go back and correct it. (The 1,3,2 Approach).
No video, only pics today as it is to cold outside and my video cam is not to clear inside. A quik explanation followed by a series of pics I hope it all falls together for you. If not feel free to ask any questions. You will probably not find this method in any publication or video. I have not made it yet! ha.
the first pic you will see "toe tape" and Glaze scuff marks on the pads. I give a quik 220 grit scuff to break the new surface of the pad. (optional). I use the rubber/foam tape on the rear of the pad so when I set the pad to rim I have automatic toe set.
release the springs and leave the pads loose and free moving. hold the pads to rim where you want them and set the clamp, now align the rear of the pads. now your pads will be automatically flush with the rim surface and toed, and equally lined in the obround of the arm. Now hold pad to keep from moving while you tighten the pad. I find that quick little torque twitches with the wrench help keep the pad from shifting til you can put the balls to it to lock it down. Take the clamp off and set the cable to your liking. That is all there is to it, perfect pad alignment automatic!. One note: If after a test ride and you have some squeal,re toe and set with thicker toe tape. (two layers).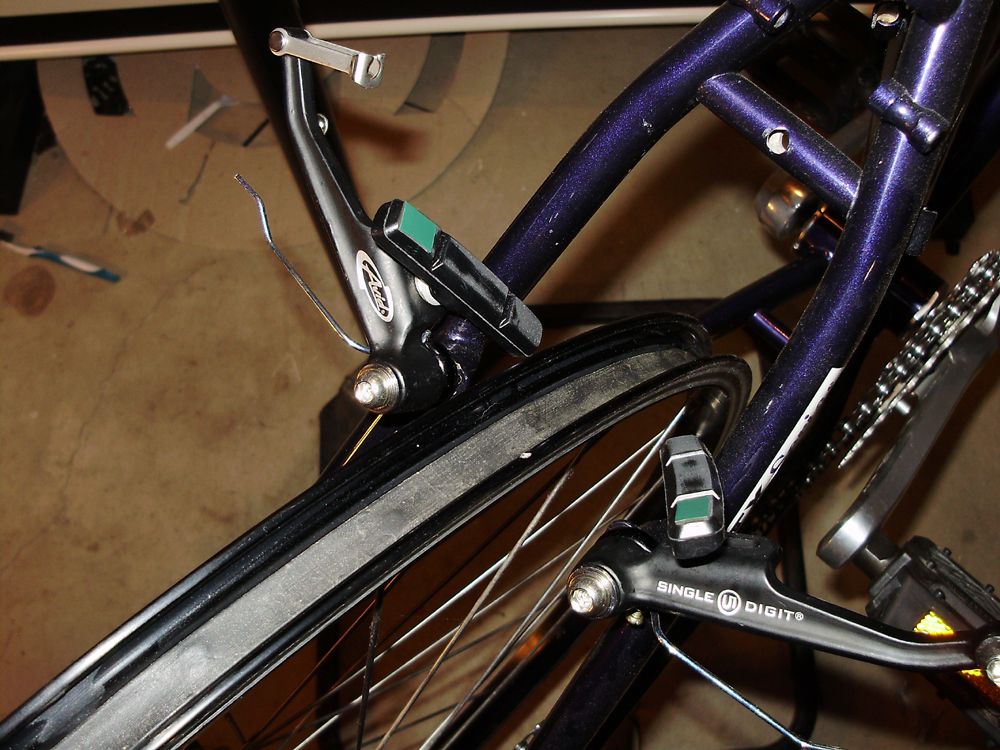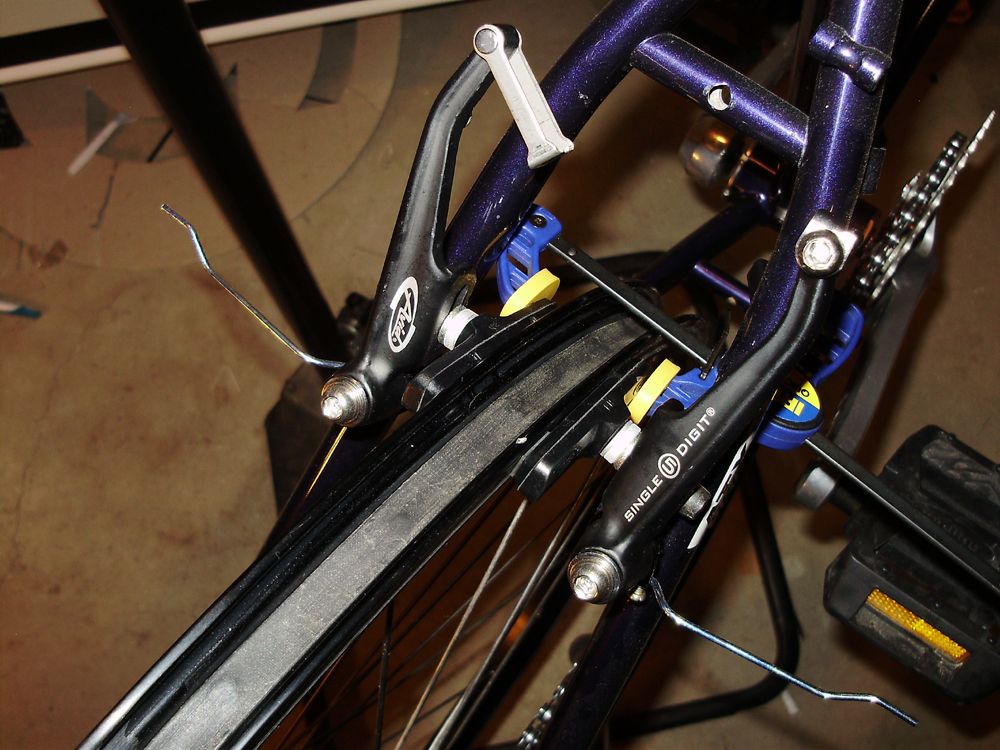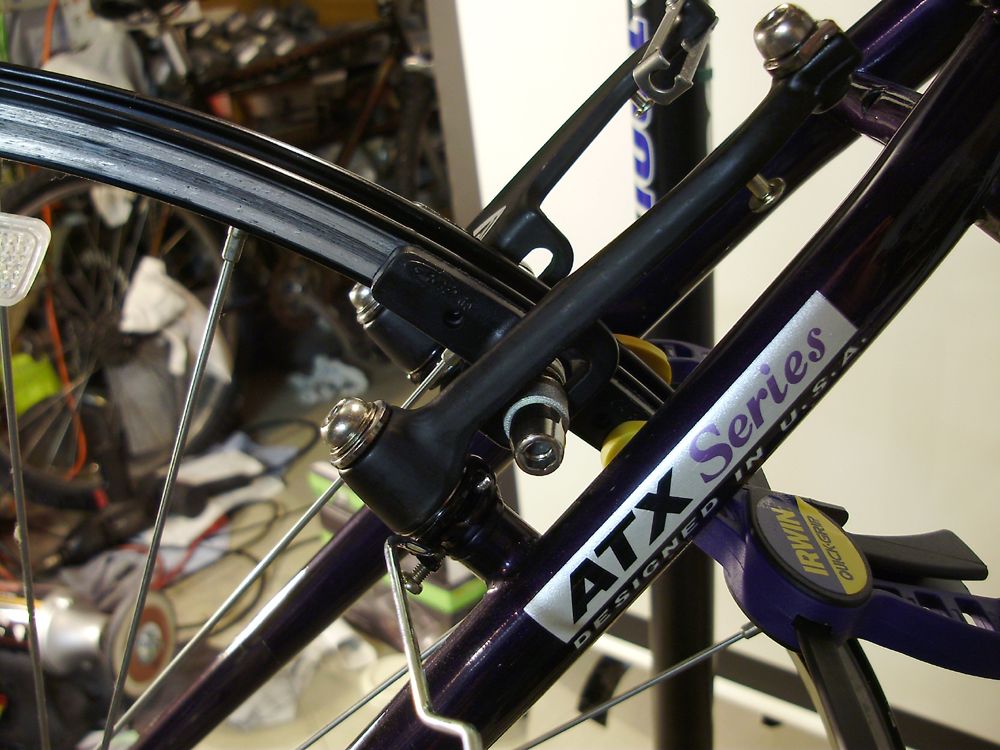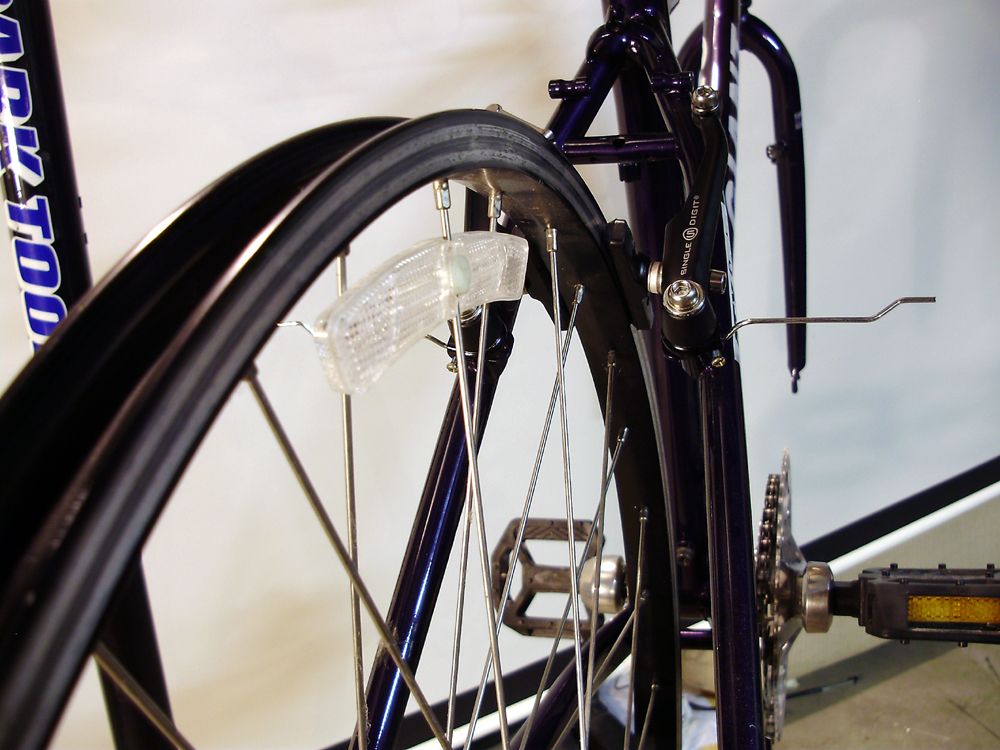 There are two kinds of people in the world, "Those who help themselves to people, and those who help people!"