Hi All,
First post on the forum, but I've been reading around for the last few months while I built my modified Schwinn OR2 700c electric bike conversion. I've done a little homework, but i'm really looking for a bit of advice before i pull the trigger on part orders:
After some decent overhaul to the stock bike, I am now hearing some clanking sounds when pedaling. I've checked the chain for any tight links and just did a thorough cleaning of the chain to see it that could have been the cause. At this point, i'm convinced its an issue with the BB.
After reading some threads, I've seen comments that re-greasing or replacing the BB is typically the solution. If you could point me in the right direction regarding tools, I would like to do the repair myself vs. going to a bike shop. Any suggestions of what kind of maintenance can be done?
Below is an image of my bottom bracket:
Looking at the locking mechanism, it looks like a cartridge type, but would like it if someone could confirm this.
I'm probably looking at needing the following tools, but again, would like a sanity check:
Crank Puller:
or this
Then i can image i need this to remove/install the cartridge: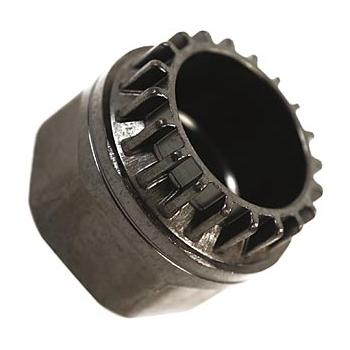 Finally, if i have to replace the cartridge, do you recommend a brand to start? I've read that the Shimano UN55 or UN54 is a good BB for the price, but cant tell which one i would actually need.
Thanks in advance!