Oh man! Back in 1996, I SO wanted one of these! It was one of my ... you know... fantasy thingys.

Two weeks ago - a fellow named Robert (good name!) walked into the bike shop and asked if I wanted an old bike before he hauled it to the recycling center 1/2 mile up the road. I said "sure", thinking it may have salvageable parts. What did Robert have in the back of his truck???
A 1996 GT Avalanche, 16" frame (just my size!). This baby was completely stock other than the Profile bar-ends and some really really toasted street tires in 1.75". The Deore LX shifters still worked!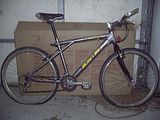 Grips were kinda rotted...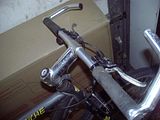 This weekend, she got both hubs and her headset overhauled and I put some new Salsa 'Juegos de Fuegos' grips on her bar. Yellow, of course. It matches her decals! You know that I know what the ladies like.

New shoes, too! A Bontrager XR-4 in 2.35 up front and a Bontrager XR-3 out back in 2.2". Here is a pic for you!
We have a date for next Saturday evening! No suspension, baby! Just a good, hard... uhhh... ride. Yeah. Like it used to be. That's right. Work the bike!
Wheelies don't pop themselves. (from a QBP fortune cookie)